ASTR 216 Practical Observational Astronomy in the Sierra Nevada
Dates: July 16 - 21, 2023
Instructor: Martin Sirk
Fee: $395.00
Units: 1
Term: Summer 2023
Course Description
This field-based laboratory course provides an opportunity for students to understand our place in the universe. Using the naked eye, binoculars, and large telescopes, we will explore celestial objects including the solar system, the stars, the Milky Way, and other galaxies. Set within a beautiful national forest in the mountains far from bright city lights, the Field Campus area has the dark sky ideal for observing deep-sky objects and meteors. Throughout the course we will stress hands-on use of telescopes and their accessories. Students will learn how to use star charts and atlases and the setting circles of an equatorial mounting to locate faint celestial objects. 
This course is especially helpful to beginning amateur astronomers who may now be having difficulty finding anything but the moon and brighter planets to observe. Educators may use this course to maintain their science accreditation. Students enroll to receive a letter grade but have the option of switching to credit-no credit grading, or to audit, at the first class meeting. Contact Martin at: sirk@ssl.berkeley.edu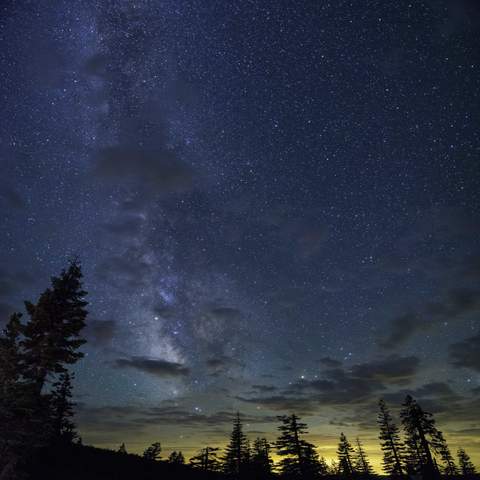 Instructor Bio
Martin Sirk works as a researcher at U. C. Berkeley's Space Science Laboratory.  An alumnus of U.C. Santa Cruz, he has worked on the Hubble Space Telescope, the Extreme Ultraviolet Explorer, and half a dozen other NASA missions. He is currently working on the Keck Planet Finder spectrometer. Martin took up amateur astronomy in high school and built his first telescope at age 15. He has been teaching this course since 2000 and has been praised as being able to explain complex scientific concepts in clear, easy-to-understand language. An amateur naturalist, he has made hundreds of forays into the Sierra in all seasons.
Course Details
Course Schedule
Afternoon classes are 1-5 p.m., and evening observing sessions are 8 p.m. - midnight. The first afternoon class on Sunday is at 2 p.m., and Thursday night is the last evening observing session.  Note that students depart after breakfast on Friday.
Required Course Materials
Purchase a copy of "Sky & Telescope" magazine dated for the month in which the course takes place. You will need to shop a month BEFORE the course begins.
A northern hemisphere planisphere (also called a star wheel); for example, Chandler's planisphere called The Night Sky 30° - 40° North (available on Amazon or at better book stores).
The Bright Star Atlas 2000.0 by Wil Tirion and Brian Skiff; Willmann-Bell Order on their website for $10.95
List of regional Astronomy Links
Supplies and Other Useful Items
The sun sets at about 20:10 this time of year, and twilight ends about 22:00. Bring lots of WARM CLOTHING (hat, gloves, parka with hood) for the cold, late-night observing sessions, a DIM flashlight with a RED lens, notebooks, pens and pencils, and the texts listed above. Although telescopes and binoculars are provided, in order to learn how to use your own equipment, you are encouraged to bring your own if you have it (telescopes, binoculars, and cameras).
Lodging and Camping Supplies
Camping gear if you are staying on campus:
tent and sleeping pad (unless you are staying in our tent with a cot provided)
warm sleeping bag
pillow, toiletries, and towel
flashlight and lantern
alarm clock
Field gear for everyone:
day pack
sunscreen and lipbalm
sun hat
insect repellant
water bottles
plastic containers for packed lunches
sense of humor
You might also want to bring:
camera
binoculars
hand lens
camp chair
Clothing:
The weather in the Sierra Nevada can vary greatly, even in a single day. Be prepared for chilly temperatures at night, even below freezing early in the summer. Rain is a possibility any time, whether forecast or not. Variable weather clothing that can be layered is best: long pants and a long-sleeved shirt, warm sweater and jacket, t-shirt and shorts or skirt, sturdy shoes or hiking boots, sun hat, rain gear, and a warm hat or gloves for cold weather and/or night activities. And, if you come later in the season, bring your swimsuit for afternoon dips in the lakes!