High-Country Writing Retreat
Dates: August 6 - 11, 2023
Instructor: Sarah Rabkin
Fee: $560.00
Term: Summer 2023
Workshop Description
This is a great opportunity for new and experienced writers alike to take inspiration from the spiced air and rushing waters of the northern Sierra. Group sessions provide a stimulating setting for writing and sharing work without judgment. Unstructured periods allow plenty of time for individual writing, recreation, and optional one-on-one instructor conferences. Prompts and exercises are conducive to poetry and/or prose, and to exploration of a wide range of topics and concerns. Bring a writing project in progress, an empty notebook ready to be filled, or both.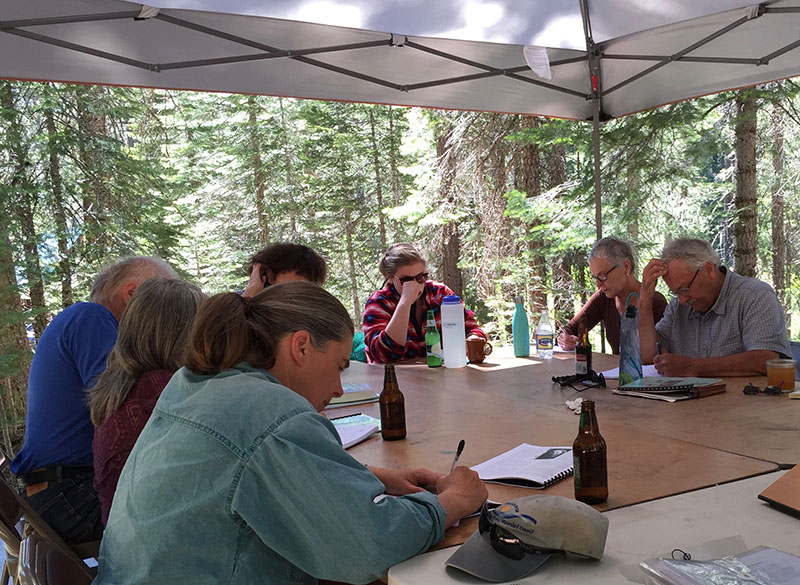 Instructor Bio
Sarah Rabkin has been leading workshops at the Sierra Nevada Field Campus for more than thirty years. After teaching writing and environmental studies at UC Santa Cruz for three decades, she now works as a freelance editor, writing coach, and oral historian. Sarah has degrees in biology (Harvard) and science communication (UCSC). She is the author and illustrator of What I Learned at Bug Camp: Essays on Finding a Home in the World (2011), and is seeking a publisher for a recently completed book titled The Quiet Activist: Healing the World by Doing What You Love. She lives near Monterey Bay with her husband, poet Charles Atkinson. Learn more about Sarah or email her at srabkin57@gmail.com.
Workshop Details
Workshop Schedule
Please plan to arrive at the field campus by 4:00 on Sunday afternoon if possible, and no later than 5:30, to give yourself time to check in with the instructor, unload and move into your tent before 6:00 dinner. We will have an introductory meeting at 7:00 on Sunday evening.
Workshop Supplies List
Please bring your favorite writing implements along with a notebook or a supply of writing paper with clipboard. Writing at a laptop is an option but may be impracticable at times, so come prepared to do at least some of your writing by hand. 
For comfort during group writing sessions, be sure to bring a shade hat or visor, sunglasses, a water bottle, layered clothing, and a timekeeping device. Earplugs may be useful in case of occasional distracting ambient sounds during writing sessions. You may also appreciate having a small foam pad to cushion your seat at the table when we write as a group, and/or a portable stool or camp chair for writing in the field and around camp.
Field gear
Bring binoculars and/or a hand lens if you think you'll want to use them.
Lodging and Camping Supplies
Camping gear if you are staying on campus:
tent and sleeping pad (unless you are staying in our tent with a cot provided)
warm sleeping bag
pillow, toiletries, and towel
flashlight and lantern
alarm clock
Field gear for everyone:
day pack
sunscreen
insect repellant
water bottles
plastic containers for packed lunches
sense of humor
You might also want to bring:
camera
binoculars
hand lens
camp chair
Clothing:
The weather in the Sierra Nevada can vary greatly, even in a single day. Be prepared for chilly temperatures at night, even below freezing early in the summer. Rain is a possibility any time, whether forecast or not. Variable weather clothing that can be layered is best: long pants and a long-sleeved shirt, warm sweater and jacket, t-shirt and shorts or skirt, sturdy shoes or hiking boots, sun hat, rain gear, and a warm hat or gloves for cold weather and/or night activities. And, if you come later in the season, bring your swimsuit for afternoon dips in the lakes!