Monoprinting – Exploring nature through shape and texture
Dates: August 4 - 6, 2023
Instructor: Saskia van Kampen
Fee: $300.00
Term: Summer 2023
Workshop Description
The natural environment is full of interesting shapes and intricate textures. This workshop has been created to capture these marvels by using monoprinting techniques. Monoprinting is a simple process of transferring impressions from objects to paper or fabric. The result of this process is a unique image each time, unlike the series' created by other printmaking techniques. This workshop is both an introduction to printmaking for those with little to no printmaking experience or can be an opportunity for those with experience to further their investigations into this technique in the spectacular setting of Sierra Nevada. Multiple methods of mark making will be explored using exciting and spontaneous printmaking processes. There will be two printmaking sessions each day with an optional paper preparation activity on Saturday evening.
The beginning of each printmaking session will involve exploring the natural surroundings of the Sierra Nevada field campus to find interesting materials to be used for mark-making and printing. Printing sessions will explore various ways in which impressions can be made. Monoprinting is not a precious practice, it lives in the realm of experimentation and material exploration making it and expressive, lively, and exhilarating art form.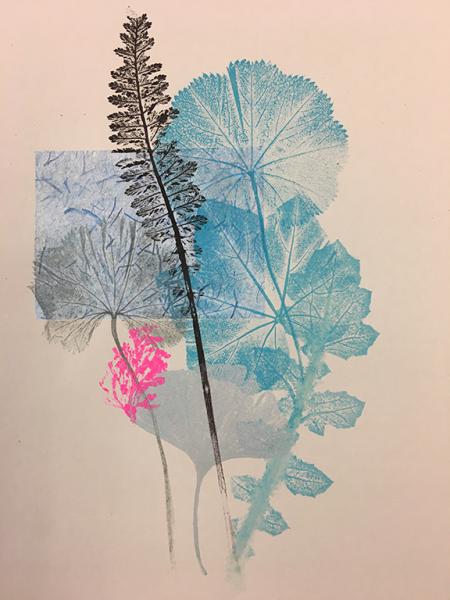 Instructor Bio
Saskia van Kampen
Saskia van Kampen is a graphic designer and contemporary feminist artist who works with a variety of media and techniques including sewing, collage, and printmaking. She is skilled in silk screen, block printing, and monoprinting processes. Her work explores materials in unique and often unexpected ways. She is represented by Galerie Le Royer in Montreal Canada.  
Workshop Details
Workshop Schedule
Arrival   
Please arrive before dinner (6pm) on Thursday. There will be a meet and greet after dinner at 7pm.  
Schedule for Friday and Saturday 
8:30 – 9:30 am            Exploration of campus for materials 
9:30 – 10:00 am          Introduction to the tools and printmaking demonstration
10:00 – 11:30 am       Printmaking followed by group discussion of techniques and outcomes, 11:30 am – noon Clean up 
Noon – 2:30 pm          Lunch, Swim, hike, relax
2:30 – 2:45 pm           Exploration of campus for materials
3:00 – 4:30 pm           Printmaking followed by group discussion of techniques and outcomes 
4:30 – 5:00 pm           Clean up 
Optional on Saturday: After dinner paper preparation for following day of printmaking  
Sunday workshop and departure 
On Sunday morning we will do a collaging workshop using the misprints. We will end by noon so that everyone can get home at a reasonable time.
Workshop Supplies List
-       Ink: Block Printing ink for paper. Recommended 1–3 colors of your choosing. Black is recommended.
-       2 x 4 or 6 inch ink roller
-       2 clear acrylic sheets at 8 x 10 x .08 inches
-       1 package of 500 sheets of 8.5 x 11 copy paper. 
-       Any other paper you would like to experiment with such as newsprint, craft paper, higher quality white paper…
-       3-4 clean absorbent rags (a cut up old t-shirt is perfect)
-       Tote bag for scavenging
-       Optional: Apron to protect clothes from inks,
-       Optional for Saturday evening paper prep activity:
decorative paper or Japanese paper,
small bottle of neutral PH adhesive or acrylic gel matte medium
flat paint brush for applying adhesive 
Lodging and Camping Supplies
Camping gear if you are staying on campus:
tent and sleeping pad (unless you are staying in our tent with a cot provided)
warm sleeping bag
pillow, toiletries, and towel
flashlight and lantern
alarm clock
Field gear for everyone:
day pack
sunscreen
insect repellant
water bottles
plastic containers for packed lunches
sense of humor
You might also want to bring:
camera
binoculars
hand lens
camp chair
Clothing:
The weather in the Sierra Nevada can vary greatly, even in a single day. Be prepared for chilly temperatures at night, even below freezing early in the summer. Rain is a possibility any time, whether forecast or not. Variable weather clothing that can be layered is best: long pants and a long-sleeved shirt, warm sweater and jacket, t-shirt and shorts or skirt, sturdy shoes or hiking boots, sun hat, rain gear, and a warm hat or gloves for cold weather and/or night activities. And, if you come later in the season, bring your swimsuit for afternoon dips in the lakes!