Pastels and Natural Light
Dates: July 23 - 28, 2023
Instructor: Bill Cone
Fee: $620.00
Term: Summer 2023
Workshop Description
Nature, perhaps the greatest teacher of all, presents ever-changing real world examples of lighting issues that are always available for study. Working out of doors provides everyone the opportunity and challenge of exploring and expressing lighting ideas with their own hands. Throughout the day and seasons, light exhibits an enormous dynamic range and complexity that is humbling to say the least, but it can inspire as well! Pastels are fast, simple, and primitive, which makes them an ideal medium for direct physical interaction with the lighting problems that working outdoors presents. This class is geared towards those who are interested in spending time outside, analyzing and recording light and color in nature with very simple tools.  This is experience and inspiration that can be taken back to the studio and put to work in a very powerful way.
Much of my focus is on teaching people to 'see', to analyze and compare elements of what they're observing, which is not medium specific.  While it helps to have drawing and compositional skills, that is not a pre-requisite. What's more important is the curiosity and willingness to be a patient observer of natural phenomena, while getting your hands dirty. Pastels are my medium of choice, and I know it pretty well, so encourage others to try it, or go deeper with it. However, attendees can work in other mediums, if they wish. Please note that we will, in some cases, be hiking up to a half mile to some spots, which requires a modest degree of fitness, as well as the need to be portable with your gear.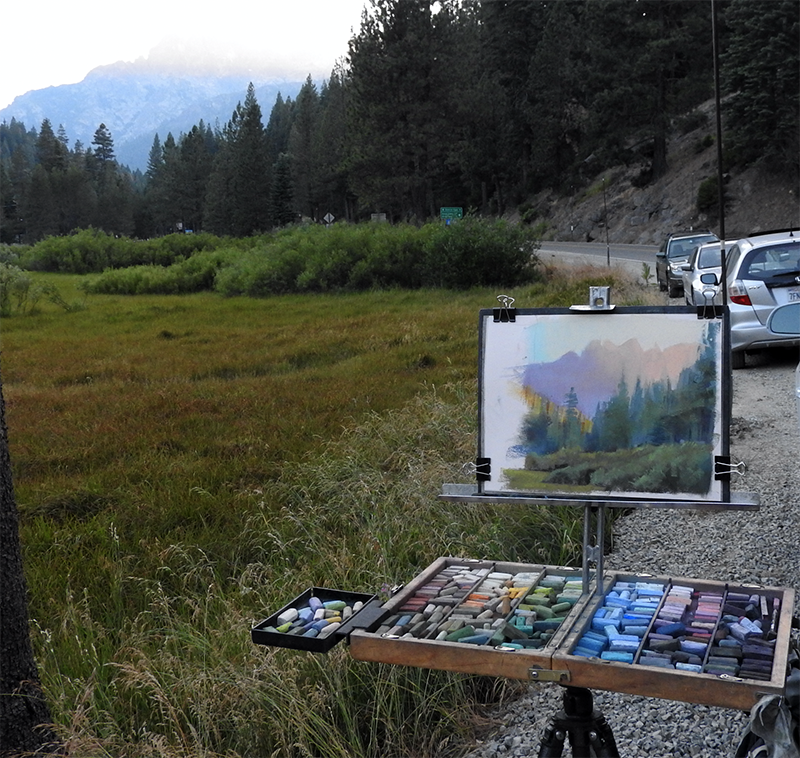 Instructor Bio
Bill Cone
Bill Cone has been painting outdoors for 27 years, and has exhibited his work in group and one man shows throughout California. He worked as a production designer for Pixar Animation Studios for many years, and he has done hundreds of pastel, lighting and color studies for films. He has also taught classes on lighting and color at Pixar for over 20 years, and has given lectures on design for film at museums and universities around the world. You can see more of Bill's work on Instagram at https://www.instagram.com/bill_cone_art/  or contact him at moraga97@yahoo.com.
Workshop Details
Workshop Schedule
For those staying at the Field Campus, plan to arrive on Sunday to settle in to your accommodations. We can get acquainted that evening during and after dinner. Class proper begins the following morning at 8:30 a.m. Class ends mid-day on Friday.
Workshop Supplies List
Art supplies
Please note that if you have materials and a setup you are comfortable with, you are welcome to use that. It is important that you be reasonably familiar with your gear, and that you are able to carry it for up to a half mile or so. For those that need a simple field kit, study the list below, and pick up the items you need. Keep it portable. You'll have more choices outdoors if you're able (and willing) to hike a short distance to find the best view. Having the right equipment will make a difference.
Pastels: I use a variety of soft pastels that are compatible with each other, Primarily Terry Ludwig, and Blue Earth, with some Unison, and Mt. Vision. Most mid-size set of landscape colors (except half-stick Sennelier) will be a good starting point. Bring as many colors as you are comfortable hiking a short distance with. You can always leave some in camp.
Paper: Canson Paper cut into quarters of the original sheet size, so roughly 9 x 12" Some useful colors for atmosphere and water are Moonstone, Dawn Pink, Flannel, Ivy, Tobacco, and Pearl Grey.  I do vary my choice according to location and lighting conditions.
11 x 14 pad of tracing paper: This is a simple way to store your finished pastels, as well as your blank sheets of paper.
11 x 14 sheet of 1/4' foam core, or lightweight wood panel. If you use wood, you can cover the wood with a sheet of Canson to use as a slight cushion behind your artwork.
Binder clips: You'll want at least 2 clips to mount paper on the foam core, or to clip your pad and foam core together.
Drafting tape: 1/4" tape to tack down any loose ends of paper in a breeze.
Sketchbook: Any small ring bound sketchbook in the 8.5 x 5.5 size is recommended for compositional studies and notes.
Black or Indigo blue Prismacolor Pencil(s)
Easel: A portable easel. There are a variety of these available, the classic wooden julian easel (full or half), the Soltek, as well as a variety of pochade type boxes that mount on tripods such as the Versa by Artwork Essentials , and the models available from www.allinoneeasel.com. I am currently using a Heilman Backpack easel that is mounted on a tripod. (www.heilmandesigns.com)
You can see a breakdown of my setup here: http://billcone.blogspot.com/2015/02/
Umbrella: Shade is an essential component of working outdoors in order to balance and control the light on your artwork as well as your palette. The one I have used for many years the 'Best Bella', is no longer being made, so you'll have to shop around.
Wet wipes: A small pack of these is helpful to keep your fingers clean while you work, as well as at the end of a session.
Folding Stool: This is optional. For years I worked sitting down, with a board in my lap, and my pastels on the ground. I am currently using an easel, but prefer the option of sitting or standing while I work. There are several models available from REI that are quite portable. And there's always the option of sitting on the ground!
Lodging and Camping Supplies
Camping gear if you are staying on campus:
tent and sleeping pad (unless you are staying in our tent with a cot provided)
warm sleeping bag
pillow, toiletries, and towel
flashlight and lantern
alarm clock
Field gear for everyone:
day pack
sunscreen
insect repellant
water bottles
plastic containers for packed lunches
sense of humor
You might also want to bring:
camera
binoculars
hand lens
camp chair
Clothing:
The weather in the Sierra Nevada can vary greatly, even in a single day. Be prepared for chilly temperatures at night, even below freezing early in the summer. Rain is a possibility any time, whether forecast or not. Variable weather clothing that can be layered is best: long pants and a long-sleeved shirt, warm sweater and jacket, t-shirt and shorts or skirt, sturdy shoes or hiking boots, sun hat, rain gear, and a warm hat or gloves for cold weather and/or night activities. And, if you come later in the season, bring your swimsuit for afternoon dips in the lakes!