Perfecting Your Presentation: Fly Fishing in the North Yuba Watershed
Dates: July 21 - 23, 2023
Instructor: Trent Kirschner
Fee: $395.00
Term: Summer 2023
Workshop Description
Trout are one of the world's most renowned game fish due to their elusiveness. Join Trent Kirschner of Tahoe Wild Trout, a professional fly fishing guide and instructor to improve your fly presentation and practice techniques that will improve your chances or hooking these exciting species. Fly presentation is arguably the most important aspect of fly fishing. We will discuss and practice a variety of dry and wet fly techniques while polishing our presentation for each.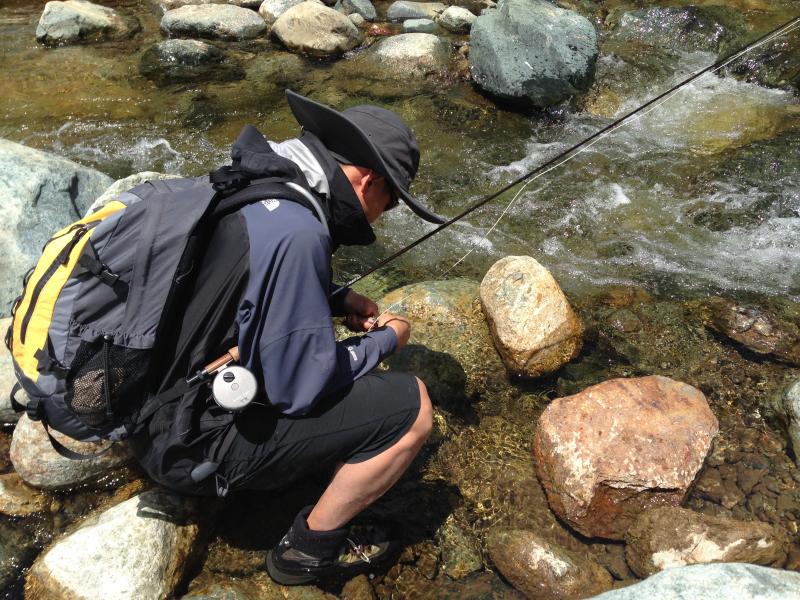 Instructor Bio
Trent Kirschner, of Trent Kirschner's Tahoe Wild Trout, started casting his first fly rod at the age of ten and has been passionate about the art ever since. He is a graduate, class of 1999, of the highly regarded Clearwater Fly Fish Guide program in Northern California and has been guiding and instructing ever since. When he is not guiding his own clients he can be found supporting Cast Hope, Matt Heron Fly Fishing, Tahoe Mountain Club and San Francisco State University at their field station on the North Fork of the Yuba River to name a few. Trent lives in Truckee spending most of his time guiding and instructing in the greater Truckee area. As a high school science teacher, Trent's knowledge of fly fishing is polished with excellent instructional skills. As a true fly angler, Trent loves to pass on the art and inspiration of fly fishing to others. You may contact Trent @ trentkirschner@gmail.com
Workshop Details
Workshop Schedule
Plan to arrive at the field station by 12 noon on Friday. We will meet in the classroom from 1-2 p.m. for introductions and a quick overview. Then we will head to the water to begin our reading water and technique instruction before dinner. After dinner we will meet in the classroom and discuss technique choice. Day 2 will be packed with more techniques, casting and application. Our final day will end at 2 p.m.
Workshop Supplies List
Valid California Fishing License

3 to 5 weight fly rod with floating line

Wading staff

Wading boots with aqua sole or felt

Waders (optional)

Nippers with retractor

Hemostats with retractor

Tippet 5X and 6X

Leaders 7.5 feet 5X and 6X

Dry Shake

Net (optional)

Split Shot no. 1 or B size

Strike Indicators Thingamabobber 1 inch

Dry Flies

Parachute Adams size 14-20
Grasshoppers size 10-12
Elk Hair Caddis size 14-18
Yellow Humpy size 14-18
Ants size 14-18

Wet flies

Birds Nest size 14-20

Bead Head Prince size 14-20

Pheasant tail size 14-20

Copper John size 14-18

Personal gear

Pack, vest or bags for carrying fly and personal gear

Polarized sunglasses

Camera with water proof bag recommended

Note pad

Quick dry shorts or pants for wading

Raingear
Contact trentkirschner@gmail.com for questions about needed materials.
Lodging and Camping Supplies
Camping gear if you are staying on campus:
tent and sleeping pad (unless you are staying in our tent with a cot provided)
warm sleeping bag
pillow, toiletries, and towel
flashlight and lantern
alarm clock
Field gear for everyone:
day pack
sunscreen
insect repellant
water bottles
plastic containers for packed lunches
sense of humor
You might also want to bring:
camera
binoculars
hand lens
camp chair
Clothing:
The weather in the Sierra Nevada can vary greatly, even in a single day. Be prepared for chilly temperatures at night, even below freezing early in the summer. Rain is a possibility any time, whether forecast or not. Variable weather clothing that can be layered is best: long pants and a long-sleeved shirt, warm sweater and jacket, t-shirt and shorts or skirt, sturdy shoes or hiking boots, sun hat, rain gear, and a warm hat or gloves for cold weather and/or night activities. And, if you come later in the season, bring your swimsuit for afternoon dips in the lakes!