Reptiles and Amphibians of the Sierra Nevada
Dates: August 7 - 11, 2023
Instructor: Kevin Wiseman
Fee: $600.00
Term: Summer 2023
Workshop Description
Course participants will be introduced to the identification, natural history, and field survey techniques of reptile and amphibian species of the Sierra Nevada. Curriculum will consist of a combination of lectures and lab examination of live and preserved specimens, in addition to daily field trips. Participants will gain hands-on experience with Foothill and Sierra Nevada Yellow-legged Frogs, California Red-legged Frogs, and Western Pond Turtles, in addition to many other species. All levels of interest and age are welcome.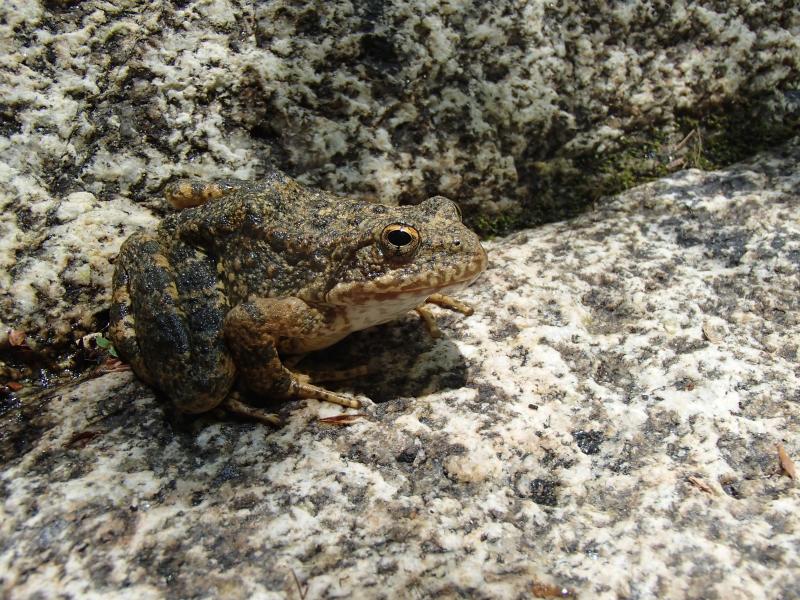 Foothill Yellow-legged Frog (Rana boylii) K. Wiseman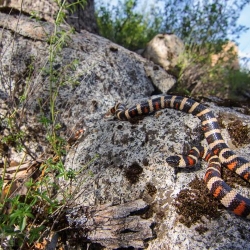 Instructor Bio
Kevin Wiseman
Kevin Wiseman earned a BA in Integrative Biology with the Museum of Vertebrate Zoology at U.C. Berkeley in 2002. Since 1994 he has worked in various positions at the Department of Herpetology at the California Academy of Sciences, where he is currently a Field Associate. Kevin has been a consulting Herpetologist in San Francisco for the past 20 years where much of his fieldwork has focused on special-status amphibians in the northern Sierra Nevada and in the Bay Area. His current research is focused on several long-term ecological studies of foothill yellow-legged frogs and the feeding ecologies of California kingsnakes, Sierra garter snakes and a comparative diet study of sympatric lampropeltinine snakes in the Midwest. He is also an active artist and scientific illustrator and lover of all things natural history.You may contact Kevin at chickenhurler@gmail.com or check out his website. 
Picture: Sierra Nevada Mountain Kingsnake (Lampropeltis zonata) M. Ishimatsu
Workshop Details
Workshop Schedule
Plan to arrive at the Sierra Nevada Field Campus on Monday evening by 5 p.m. for dinner. Introductions and orientation will take place that evening at 7:30 p.m. The class will begin at 8:30 a.m. on Tuesday following breakfast. Lectures, examination of live/preserved specimens and discussions will take place in the mornings after breakfast followed by daily field trips. The class will end at 1 p.m. on Friday.
Workshop Supplies List
Field gear
small notebook & pen/pencil
wading boots or shoes that can get wet
second pair of shoes/boots to keep dry
quick-dry pants
waders (optional)
Lodging and Camping Supplies
Camping gear if you are staying on campus:
tent and sleeping pad (unless you are staying in our tent with a cot provided)
warm sleeping bag
pillow, toiletries, and towel
flashlight and lantern
alarm clock
Field gear for everyone:
day pack
sunscreen
insect repellant
water bottles
plastic containers for packed lunches
sense of humor
You might also want to bring:
camera
binoculars
hand lens
camp chair
Clothing:
The weather in the Sierra Nevada can vary greatly, even in a single day. Be prepared for chilly temperatures at night, even below freezing early in the summer. Rain is a possibility any time, whether forecast or not. Variable weather clothing that can be layered is best: long pants and a long-sleeved shirt, warm sweater and jacket, t-shirt and shorts or skirt, sturdy shoes or hiking boots, sun hat, rain gear, and a warm hat or gloves for cold weather and/or night activities. And, if you come later in the season, bring your swimsuit for afternoon dips in the lakes!