Rock, Wood, Water, Sky
Dates: Sunday, June 25 - 30, 2023
Instructor: Laurie Wigham
Fee: $560.00
Term: Summer 2023
Workshop Description
In this workshop we'll forget about painting sweeping landscapes and focus on individual elements. We'll mostly use watercolor but will play around with different mark-making tools, like sticks and odd brushes, ink and charcoal, to develop a visual vocabulary that you can use to take your painting in new directions. There will be lessons on technique, but always about how to show what you love about this place. How can you make a soft edge to show how that cloud is glowing? What tool will catch the way that dead branch twists towards the sky? We'll explore the properties of watercolor pigments—how earth pigments can give you granite textures, but you'll need synthetic paints to show the sun shining through a Leopard Lily. We'll do lots of small experiments, moving from close up to distant and back, but go big at the end.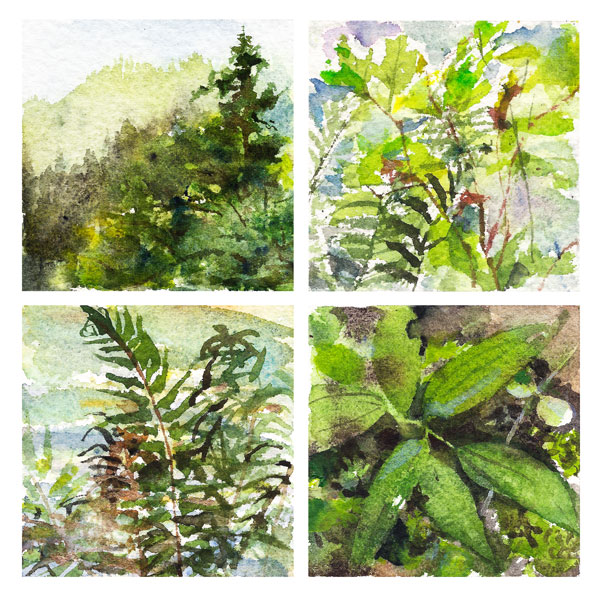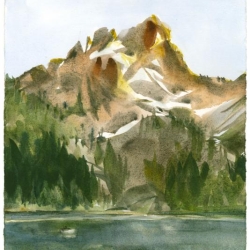 Instructor Bio
Laurie Wigham
After nearly three decades doing graphic design and illustration in the tech industry, Laurie fell out of love with the computer and decided to get back to making art without an undo button and getting ink stains on her fingers. She set up the SF Sketchers Meetup group ten years ago and found that lots of other people wanted to get off their screens and look at the world with their own eyes again. She paints in the wilderness and on city streets, and her watercolors have been shown at galleries around the Bay Area. Laurie has taught at the Academy of Art University, the Cal Naturalist program, John Muir Laws' Nature Journal Club and during her artist residencies in national parks. Learn more at this website or contact her at info@lauriewigham.com.
Workshop Details
Workshop Schedule
Plan to arrive at the Sierra Nevada Field Campus on Sunday by 6 p.m. for dinner. We'll do some warm-up exercises that first night and get serious the next morning. Each day we'll work around campus or out in the field until mid-afternoon, then take a break before dinner. After dinner we'll head out for sunset painting until it's too dark to see what we're doing.
Workshop Supplies List
Brushes: Bring a varied selection, including a wide flat brush, a round or mop brush, a dagger or liner brush and a waterbrush. Synthetic fibers are fine.
Paper: At least 3 full-size sheets (22x30) of 140 lb, 100% cotton watercolor paper, with a rigid lightweight support at least 12x16" (foamcore, plywood or plastic)
Watercolor paint: Bring a plastic palette with wells pre-filled with from tubes (give them time to dry) or with ready-made pans or cakes. Get artist-quality paint. 
Other: Water containers, small spray bottle, ziplock baggies, paper towels or rags, mechanical pencil, fineline waterproof marker pens, a dark watersoluble/aquarelle pencil, eyedropper, black or brown waterproof ink plus one empty ink bottle, portable stool or pad to sit on, sketchbook. Comfortable daypack to carry all that gear.
Optional Extras: A tube of white gouache, dip pens, Pentel waterproof brush pen, fountain pen, bamboo pen, white gel pen, artist tape or masking tape, any charcoal or conte crayons you have lying around.
Lodging and Camping Supplies
Camping gear if you are staying on campus:
tent and sleeping pad (unless you are staying in our tent with a cot provided)
warm sleeping bag
pillow, toiletries, and towel
flashlight and lantern
alarm clock
Field gear for everyone:
day pack
sunscreen
insect repellant
water bottles
plastic containers for packed lunches
sense of humor
You might also want to bring:
camera
binoculars
hand lens
camp chair
Clothing:
The weather in the Sierra Nevada can vary greatly, even in a single day. Be prepared for chilly temperatures at night, even below freezing early in the summer. Rain is a possibility any time, whether forecast or not. Variable weather clothing that can be layered is best: long pants and a long-sleeved shirt, warm sweater and jacket, t-shirt and shorts or skirt, sturdy shoes or hiking boots, sun hat, rain gear, and a warm hat or gloves for cold weather and/or night activities. And, if you come later in the season, bring your swimsuit for afternoon dips in the lakes!