Sketching History in the Northern Sierra
Dates: June 18 - 23, 2023
Instructor: Laurie Wigham and Cathy McAuliffe
Fee: $560.00
Term: Summer 2023
Workshop Description
Humans have lived in this part of the mountains for thousands of years and the traces of that history are everywhere. There are petroglyphs and grinding rocks from the first people here, mines and tailings from the Gold Rush, graceful old barns from the Italian-Swiss settlers who raised dairy cows and the calligraphy of gates and fences in modern ranches. Loggers clearcut these hills for the mining operations but today the mills are processing salvage lumber from wildfires. There are elegant trestles and bridges from the railways which stitched it all together, and a museum with railway cars. 
We'll be talking about the history of each place and looking at ways to tell those stories visually, demonstrating a range of techniques for sketch journaling and watercolor painting, from tight to loose, realistic to abstract.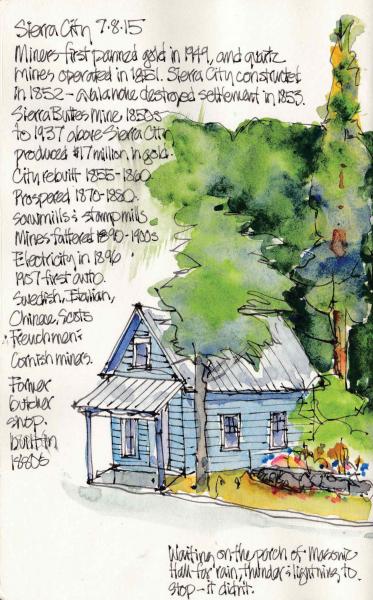 Instructor Bio
Laurie Wigham and Cathy McAuliffe
Laurie Wigham and Cathy McAuliffe have been leading urban sketching and nature journaling activities in the San Francisco Bay Area for more than a decade. Both former graphic designers, they like to experiment with ways to communicate a larger story about times, places and ideas in their art. Cathy has been assisting Laurie in teaching her other workshop at the Field Campus, "Rock, Wood, Water, Sky" but this time will be a co-teacher, adding her expertise in unearthing little-known stories and sketch journaling to Laurie's experience teaching watercolor.
Workshop Details
Workshop Schedule
Plan to arrive at the Sierra Nevada Field Campus on Sunday by 6 pm for dinner. We'll do some warm-up exercises that first night and get serious the next morning. Each day we'll work out in the field until mid-afternoon, then take a break before dinner. After dinner we'll have talks and slideshows about the locations where we'll be working the next day.
Workshop Supplies List
Required art materials and field gear
You can choose whether to focus on painting or sketching—or some combination—and bring materials that will work for that approach. You can also  just bring everything in case you change your mind.
Essentials
Drawing and writing materials : Bring a selection of waterproof pens, soft and hard pencils, watercolor pencils and bottle of waterproof ink. 
Brushes: Bring a varied selection, including a wide flat brush, a round or mop brush, a dagger or liner brush. Synthetic fibers are fine. If you'll be mostly sketch journaling be sure to bring a waterbrush.
Paper: Sketch-journalers make sure you have a sketchbook you like to work in—something that will take watercolor washes. 
Painters should bring at least 3 full-size sheets (22x30) of 140 lb, 100% cotton watercolor paper, with a rigid lightweight support (foamcore, plywood or plastic) at least 11.5x15.5.
Watercolor paint: Bring a plastic palette with wells pre-filled with from tubes (give them time to dry) or with ready-made pans or cakes. Get artist-quality paint.
Packing note: The campus elevation is nearly 5,000 ft and may be still chilly in early June. We'll be spending most of our days at lower altitude locations where it will be warmer, but be prepared for cold nights with your warmest clothes and sleeping bags. 
Lodging and Camping Supplies
CAMPING GEAR IF YOU ARE STAYING ON CAMPUS
tent and sleeping pad (unless you are staying in our tent with a cot provided)
warm sleeping bag
pillow, toiletries, and towel
flashlight and lantern
alarm clock
FIELD GEAR FOR EVERYONE
day pack
sunscreen
insect repellant
water bottles
plastic containers for packed lunches
sense of humor
YOU MIGHT ALSO WANT TO BRING
camera
binoculars
hand lens
camp chair
CLOTHING
The weather in the Sierra Nevada can vary greatly, even in a single day. Be prepared for chilly temperatures at night, even below freezing early in the summer. Rain is a possibility any time, whether forecast or not. Variable weather clothing that can be layered is best: long pants and a long-sleeved shirt, warm sweater and jacket, t-shirt and shorts or skirt, sturdy shoes or hiking boots, sun hat, rain gear, and a warm hat or gloves for cold weather and/or night activities. And, if you come later in the season, bring your swimsuit for afternoon dips in the lakes!