Songwriting in the High Sierra
Dates: June 23-25, 2023
Instructor: Jenner Fox
Fee: $350.00
Term: Summer 2023
Workshop Description
This will be a small group workshop dedicated to the craft of songwriting. Come prepared to write songs, share, and dig deep. We will work with our personal experiences and inspiration from the beautiful surroundings at the Sierra Nevada Field Campus to write from prompts, explore our individual "taste," dissect the songs we love, share our original songs, and support each other in our musical journeys.
All genres welcome. Some musical experience encouraged! (I.E. "I know three chords on a Ukulele" to "I have a PHD in classical conducting and a grammy")
From Jenner: I have been fortunate to build a career in the music industry, with 6 albums, collaborations with some of my musical heroes, and opportunities to inspire and teach songwriters of all ages and abilities. For over 7 years, I have developed curriculum for songwriters with diverse musical abilities and tastes, and I have taught in schools, arts organizations, music festivals, correctional facilities, and to individuals and groups in my own private instruction. In every setting we make time to actually write. I believe this is where the learning happens. In witnessing hundreds of songs being born (my own and my students), I have recognized writing and feedback strategies that work and those that do not, challenges and strengths of countless songwriters, and some simple principles that allow us to break through.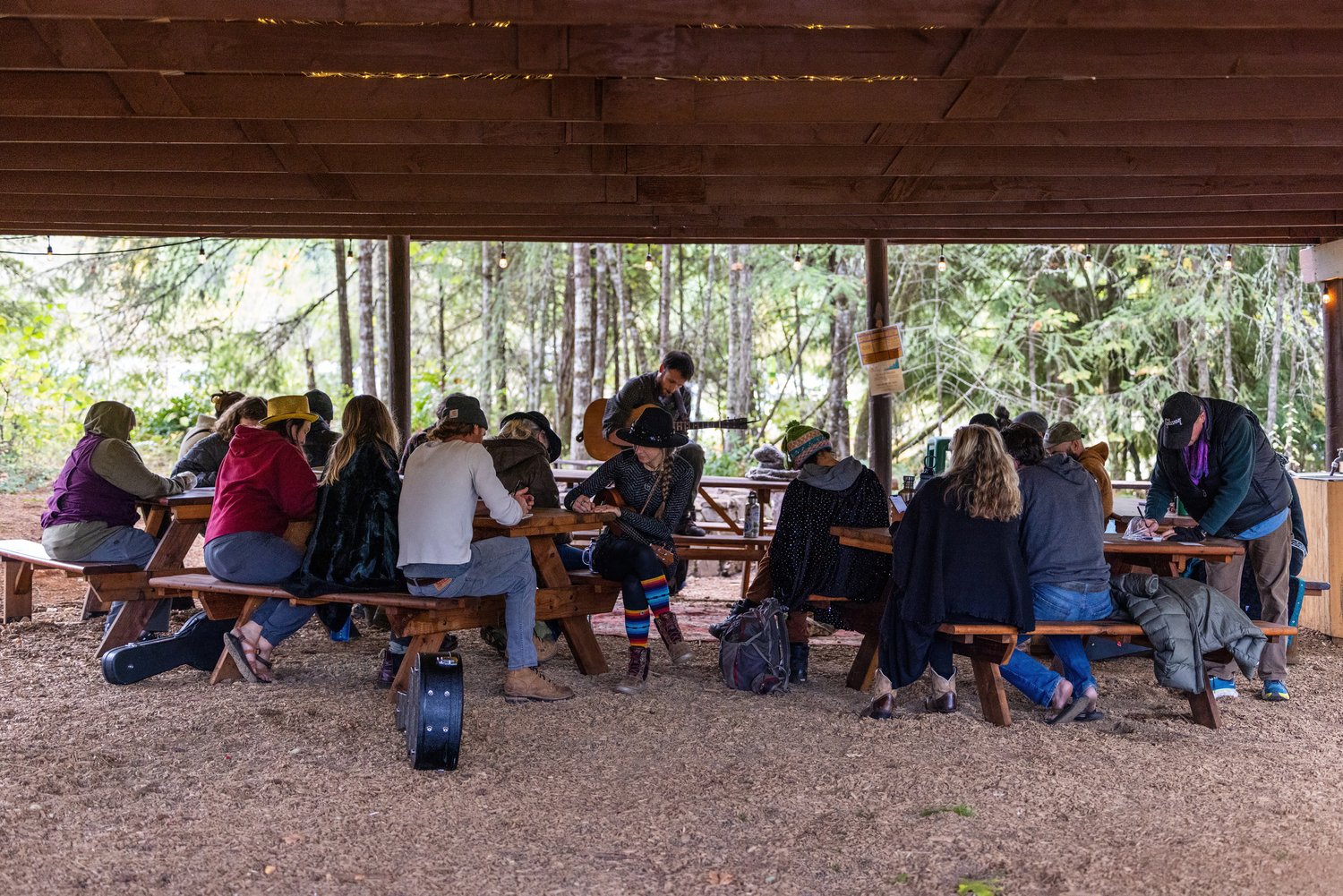 Instructor Bio
There is something that happens inside a good song. A tootsie roll can take you back to your
elementary school playground; a list of baby names becomes a prayer; the voice of a toothless
refrigerator man reminds you to say "I love you." Jenner Fox tells the stories of people and places with
unparalleled compassion and respect. His artful tone, poetry, and fluency on his guitar do something
only the brave ones do: let us in. Jenner leads songwriting workshops, camps, and individual sessions with songwriters from middle
school to retirement, and first timers to life-timers.  
Workshop Schedule
Friday: Arrive between 4 and 6pm for check in and setting up your camp. Arrival dinner at 6pm followed by introductions and evening songwriting
Saturday: Spend the day writing and playing at the field campus. May venture out or stick around the campus and the river for our writing time. 
Sunday: Last bits of morning writing, final song shares, celebration and farewells. Departure by noon.
Workshop Supplies List
-Musical instrument(s)
-Any other technology you use for writing music (i.e. laptop / synthesizer, etc)
-Notebook
-Pen / Pencil
Lodging and Camping Supplies
Camping gear if you are staying on campus:
tent and sleeping pad (unless you are staying in our tent with a cot provided)
warm sleeping bag
pillow, toiletries, and towel
flashlight and lantern
alarm clock
Field gear for everyone:
day pack
sunscreen
insect repellant
water bottles
plastic containers for packed lunches
sense of humor
You might also want to bring:
camera
binoculars
hand lens
camp chair - Strongly recommend this for songwriting circles!
Clothing:
The weather in the Sierra Nevada can vary greatly, even in a single day. Be prepared for chilly temperatures at night, even below freezing early in the summer. Rain is a possibility any time, whether forecast or not. Variable weather clothing that can be layered is best: long pants and a long-sleeved shirt, warm sweater and jacket, t-shirt and shorts or skirt, sturdy shoes or hiking boots, sun hat, rain gear, and a warm hat or gloves for cold weather and/or night activities. And, if you come later in the season, bring your swimsuit for afternoon dips in the lakes!