Wildflowers Along the Trail in your Watercolor Nature Journal
Dates: July 23 - 28, 2023
Instructor: Kristin Meuser
Fee: $560.00
Term: Summer 2023
Workshop Description
Each Sierra wildflower has a unique life of its own, and each year's bloom is a surprise. From the tiniest to the showiest flowers, the Lakes Basin area of the Sierra Nevada provides the habitat for huge diversity. You are invited to explore the wonder of wildflowers in your watercolor nature journal during your week at the Sierra Nevada Field Campus.
This workshop begins with an introduction to your compact kit including a description of the tools and their use, color mixing and matching, followed by basic flower anatomy that will help students understand how to sketch and paint flowers in the field.
Four full days of flower discovery, sketching, and painting will be yours as you are guided to peaceful and dramatic locations in the Sierra Buttes and Lakes Basin areas where you will hike 1-3 miles round trip each day allowing for plenty of time to sketch, paint and write about the flowers you encounter. We will create a page of these individual flowers as we discover them throughout the week as well as pages of flowers in context.
My workshops create a safe place for you, no matter what your experience level, to share your unique exploration of wildflowers in your journal. In this way we can gain inspiration from each other's pages.
The group will return to the Field Campus by mid-afternoon for relaxation by the river or a swim in nearby lakes.
For more information on my teaching style and examples, please visit my website at www.naturemeuse.com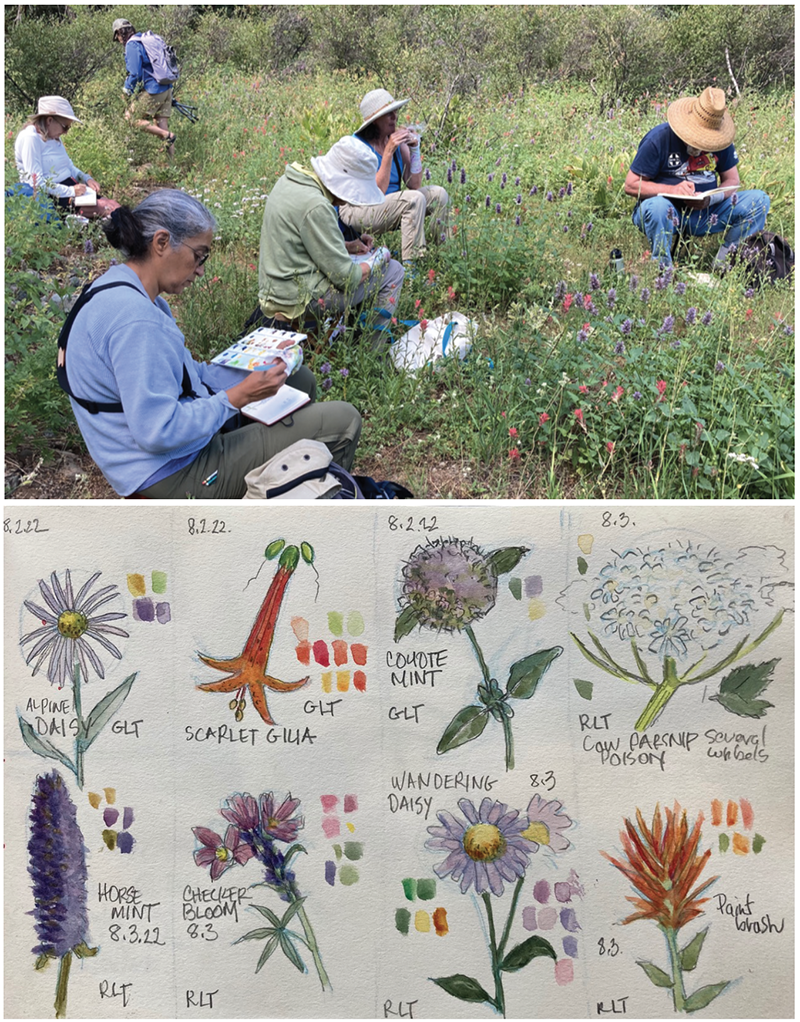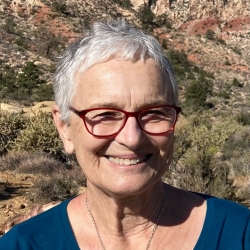 Instructor Bio
Kristin Meuser
I have been painting the land in various mediums for over 35 years. Many years ago my love of nature lead me to the Sierra Nevada Field Campus where I studied nature journaling with Jack Laws, watercolor with Andie Thrams and writing with Sarah Rabkin. My career as a graphic designer gives my journal pages a sense of structured variety and a cohesive overall effect. I have been teaching watercolor nature journaling for the past 10 years privately and at art and retreat centers in California and Nevada. My work can be found in private collections; it has been shown regionally; and has been represented at the Ansel Adams Gallery in Yosemite.
Workshop Details
Workshop Schedule
Please plan to arrive at the Sierra Nevada Field Campus early Sunday afternoon to get settled in your tent. We'll meet informally at 5pm near the dining hall to pass out kits and get acquainted.
Class will formally begin at 8:30 a.m. on Monday morning when we will meet in the parking lot where we will start the day with Qigong warmup exercises and poetry.
Demonstrations and slideshows will take place throughout the week.
Workshop Supplies List
The backbone of this workshop is Kristin's compact yet powerful watercolor nature journaling kit. All the tools have been carefully sourced to maximize your individual success as well as to encourage a deep and cohesive collective experience. To that end, the $65 kit is REQUIRED on the first day of the workshop without exception unless you bring one of Kristin's kits with you from one of her previous workshops.
FIELD GEAR
1. Messenger-style bag to hold art supplies
2. Close-focus binoculars (available through www.johnmuirlaws.com)
3. Lightweight 3-legged stool (available at REI for about $22) – this type of stool creates less of a foot print and is lightweight and portable. You may also want to bring a small foam pad to sit on rocks.
4. Wide brimmed hat
5. Time piece to bring along on outings.
6. Day pack
7. Full water bottle
Suggested Reading
**Botany in a Day, Thomas J. Elpel, HOPS Press
**Field Guide to the Sierra Nevada, John Muir Laws, Heyday Press
The Laws Guide to Nature Drawing and Journaling, John Muir Laws, Heyday Press
Drawing a Tree, Bruno Munari, Edizioni Corraini, Italy
Discovering Sierra Trees, Stephen F Arno, Yosemite Natural History Association
Drawn to Nature, Clare Walker Leslie, Storey Publishing
A Trail Through Leaves: The Journal as a Path to Place, Hannah Hinchman, Norton
Local Color, Mimi Robinson, Princeton Architectural Press
** Highly recommended
Lodging and Camping Supplies
Camping gear if you are staying on campus:
tent and sleeping pad (unless you are staying in our tent with a cot provided)
warm sleeping bag
pillow, toiletries, and towel
flashlight and lantern
alarm clock
Field gear for everyone:
day pack
sunscreen
insect repellant
water bottles
plastic containers for packed lunches
sense of humor
You might also want to bring:
camera
binoculars
hand lens
camp chair
Clothing:
The weather in the Sierra Nevada can vary greatly, even in a single day. Be prepared for chilly temperatures at night, even below freezing early in the summer. Rain is a possibility any time, whether forecast or not. Variable weather clothing that can be layered is best: long pants and a long-sleeved shirt, warm sweater and jacket, t-shirt and shorts or skirt, sturdy shoes or hiking boots, sun hat, rain gear, and a warm hat or gloves for cold weather and/or night activities. And, if you come later in the season, bring your swimsuit for afternoon dips in the lakes!