Woodblocks: design, carve and print in the Field
Dates: August 11 - 13, 2023
Instructor: Joan Hoffmann
Fee: $300.00
Term: Summer 2023
Workshop Description
Woodblock printing is a timeless art.  Learn to think and work in black and white: to design, layout, carve and print from the block, over this three day workshop. Meet Friday evening and work Saturday and Sunday on woodblocks and making art. After learning to design in binary colors, and transferring this design to a woodblock, you will learn the feel of wood through carving. After traditional designs and printing from wood, we will branch out to print found objects, wood grains and unique surfaces that will combine with carved images to create one of a kind Art!
No experience necessary, beginners and experienced participants welcome! Bring your own tools, paper, inks and woodblocks; sharing tools with a friend/participant works well or borrow tools. Copy paper works for test prints, and brown paper (grocery bag) is fun or rice paper or fibrous paper for final prints. See supply list and email Joan with additional questions.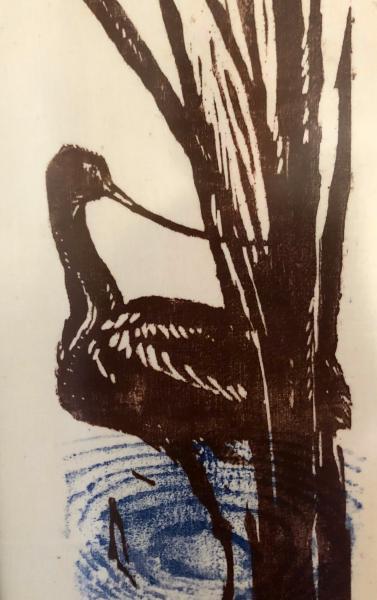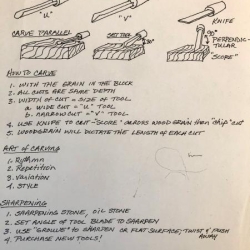 Instructor Bio
Joan Hoffmann
Joan Hoffmann is a professional oil and watercolor painter. Woodblock Printing is her treasured and favorite print medium. Her woodblocks are fine art and or note cards and she has been commissioned for book cover art. For the last ten years she has taught woodblock printing at Pt Reyes National Seashore Field Institute, California, Artistree Art Center, Vermont and Alliance for Visual Arts, New Hampshire. Woodblocks are timeless and working with wood is elemental. Feel free to email Joan @ hoffmann.joan@gmail.com or visit her website.  
Find her books on AmazonKindle/joanhoffmann/ 
Workshop Details
Workshop Schedule
Woodblock schedule: Meet Friday night for dinner and introductions to participants, and materials and demonstration.
Work Saturday and Sunday 9 a.m - 4 p.m. with lunch break for swimming, walk or nap!
Workshop Supplies List
Art supply stores carry a limited supply of tools but may have a wide variety of paper. For a most complete line of tools go to Dick Blick. Inexpensive tools and paper are all you need for this class.
Carving Tools
One set of tools made for wood or Linoleum (Lino) Block carving. Some sets have one handle and a variety of blades. Be sure it has a "U" and a "V" shape tool/blade. Prices vary from $10-$100 per set.
Brayer (Roller) A small roller(width) is good (wider rollers are for larger blocks)
The handle can be simple steel or complicated with a "ink" guard. I find the simple handle is easiest to clean and works fine.
Platen (ink plate) Any flat surface works for the inking plate-ink needs to be rolled onto the roller. Glass, plastic, or lino block that is bigger than the roller works well.
Ink Speedball makes inexpensive water-base printer's ink (paint is not the same as ink!). It comes in colors: one or two colors is all you need such as black, brown or blue.
Paper traditional paper is "Rice" paper found at fine Art Supplies. (Michael's will not likely have this paper, Dick Blick will have fine papers). When first printing, many test prints will be required before a final print is pulled. Bring a stack of copy paper for test prints, and a few "final" papers.
Miscellaneous Paper Towels, newspapers (to cover the table) and a palette knife (same as an oil painter uses)
Lodging and Camping Supplies
Camping gear if you are staying on campus:
tent and sleeping pad (unless you are staying in our tent with a cot provided)
warm sleeping bag
pillow, toiletries, and towel
flashlight and lantern
alarm clock
Field gear for everyone:
day pack
sunscreen
insect repellant
water bottles
plastic containers for packed lunches
sense of humor
You might also want to bring:
camera
binoculars
hand lens
camp chair
Clothing:
The weather in the Sierra Nevada can vary greatly, even in a single day. Be prepared for chilly temperatures at night, even below freezing early in the summer. Rain is a possibility any time, whether forecast or not. Variable weather clothing that can be layered is best: long pants and a long-sleeved shirt, warm sweater and jacket, t-shirt and shorts or skirt, sturdy shoes or hiking boots, sun hat, rain gear, and a warm hat or gloves for cold weather and/or night activities. And, if you come later in the season, bring your swimsuit for afternoon dips in the lakes!