Wool Felt: Ancient Techniques for Modern Accoutrement
Dates: July 7-9, 2023
Instructor: Katharine Jolda
Fee: $325
Term: Summer 2023
Course Description
Wool felt is a non-woven textile of ancient origin. Its strength comes from a tight network created from individual wool fibers. In this workshop, you will use loose wool in natural colors to felt a bag, and then finish it with buttons and a strap of your own making. 
Meet Friday evening for a slide-show and story-telling about working with sheep on the land in California and the Navajo Nation, and how to select wool for felting. Saturday work will be using wet felting techniques and tactile awareness to craft a bag from loose, raw wool. The process and techniques from Saturday are scalable for creating different and larger felt items, such as boots or vests. Sunday work will be examining and appreciating deer antlers and black walnut shells, then cutting and finishing them into buttons. Finally, choose between brain tanned deer skin or natural-dyed wool yarn for braiding a strap for your bag. 
No experience is necessary. Be prepared for mild physical exertion and movement. Instructor will provide all the tools and materials.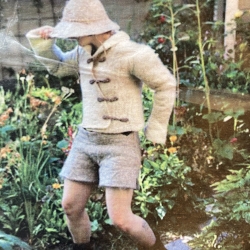 Instructor Bio
Katharine Jolda follows the fairytale path of leaving homeland to seek one's fortune, then returning to share the gathered abundance of gifts and treasure. As a young adult she followed opportunity to work on the Navajo Nation, and spent almost a decade as a traveling fiber artisan specializing in felt, natural dyes, and related skills. As an older adult, she has taken a stand in her community by teaching science at a public elementary school and cultivating, with her husband and children, a wild and productive garden in their Oakland backyard. 
Course Details
Course Schedule
Class will begin on Friday evening, July 7 at dinner followed by slideshow and storytelling and a meeting of the materials.
Saturday will be a full day of learning and crafting
Sunday we will complete projects in the morning and end around lunch time.
Supplies List
Students should bring whatever they need to be comfortable throughout the day. All tools and materials for the workshop will be provided.
Lodging and Camping Supplies
Camping gear if you are staying on campus:
tent and sleeping pad (unless you are staying in our tent with a cot provided)
warm sleeping bag
pillow, toiletries, and towel
flashlight and lantern
alarm clock
Field gear for everyone:
day pack
sunscreen
insect repellant
water bottles
plastic containers for packed lunches
sense of humor
You might also want to bring:
camera
binoculars
hand lens
camp chair
Clothing:
The weather in the Sierra Nevada can vary greatly, even in a single day. Be prepared for chilly temperatures at night, even below freezing early in the summer. Rain is a possibility any time, whether forecast or not. Variable weather clothing that can be layered is best: long pants and a long-sleeved shirt, warm sweater and jacket, t-shirt and shorts or skirt, sturdy shoes or hiking boots, sun hat, rain gear, and a warm hat or gloves for cold weather and/or night activities. And, if you come later in the season, bring your swimsuit for afternoon dips in the lakes!